August 14, 2019
Two Philosophers Take On Leadership Roles at Center for Ethics and Human Values
Image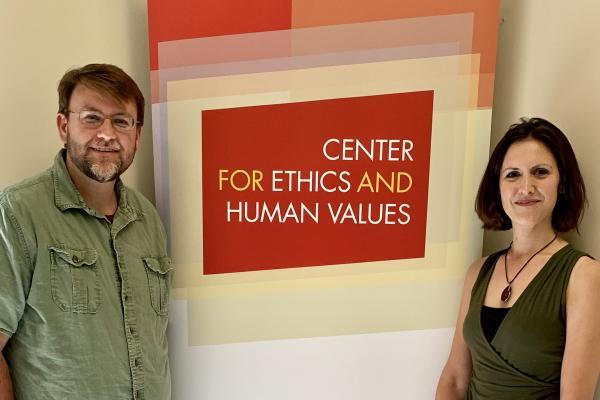 Description
Over the summer, the Center for Ethics and Human Values named a new Director and Associate Director.
Piers Turner, Associate Professor of Philosophy and (by courtesy) Political Science, is the new Director of CEHV. He is a founding member of the Center and has long been closely involved with its programs, previously serving as Chair of its Steering Committee. Piers is also co-coordinator of the Philosophy, Politics, and Economics (PPE) major, and serves on the advisory boards for the Sustainability Institute and the Program on Data and Governance at the Moritz College of Law.  His research focuses on the philosophy and political economy of John Stuart Mill, the great 19th century liberal and utilitarian.
Kate McFarland is CEHV's new Associate Director. In that capacity she will also be a Lecturer in the Department of Philosophy. Kate received a PhD in Philosophy from Ohio State in 2015 and a Masters in Applied Statistics in 2009. Her background in philosophy and applied ethics encompasses philosophy of language, pragmatics, engineering ethics, and universal basic income, and her current areas of interest include environmental ethics and environmental aesthetics.
"We are very excited to build up CEHV's programs to make it one of the leading ethics centers in the nation, especially in its ability to drive interdisciplinary engagement," Turner says. "Our Center has a great role to play not only hosting important discussions on difficult ethical questions, but in supporting research, curricular, and public outreach efforts."
The Center has also named two new members to its Advisory Board: Darrick Hamilton, Executive Director of the Kirwan Institute for the Study of Race and Ethnicity and Professor in the John Glenn College of Public Affairs, and Don Hubin, former Director of CEHV and Emeritus Professor in the Department of Philosophy. The Advisory Board provides general guidance to the CEHV Steering Committee and staff as it develops its programs on and beyond campus.
Advanced
---