Body
Each Spring the Philosophy Department awards the Bingham Prize to a deserving undergraduate. This award is designed to recognize and award undergraduate excellence in Philosophy. The Philosophy Department will present the prize of $750 and an engraved medal to the winner.
Qualifications for Submissions
You must have taken an undergraduate philosophy course at OSU during the current school year or during spring term of the previous year.
You must have written the essay since spring break the previous year.
You must have your essay endorsed by a faculty member or graduate teaching associate in the Philosophy Department. For that purpose please use the following:
Download a

Deadline for Submission: Monday, March 16, 2020 - 4:00 p.m.
Length: maximum page length for Bingham submissions is 20 pages
(double spaced, no smaller than 12-pt type, with reasonable margins.)
NOTE: If you are submitting a chapter from an honors thesis, please be sure to rework it as a free-standing paper.
Submission Instructions
Fill out the nomination form and have your faculty/TA supporter sign it (or an email endorsement sent to Michelle Brown). Have a copy of your paper emailed to Michelle Brown at brown.930@osu.edu, no later than the advertised deadline.
To permit a blind review, prepare an electronic manuscript of the paper, in which your name does not appear anywhere. The full title of the paper should appear at the top of the first page (i.e., there is no title page) Save this manuscript as a .doc or .pdf file. When you create the file, be sure that the author-box in the information on the file is left blank. Name the file 'Bingham XX', when 'XX' is the first two words of the title of your paper.
By the advertised deadline, email this manuscript to Michelle Brown at (brown.930@osu.edu).
In the subject line of the email message write 'a Bingham submission'.
In the body of the message write:

'The title of the paper hereby submitted to the Bingham Competition: XXX', when 'XXX' is replaced by the full title that is also at the top of your manuscript, and
'Author: YYY', when 'YYY' is replaced by your name
REMEMBER TO ATTACH THE MANUSCRIPT (prepared for blind review)
Submissions received after the advertised deadline will be invalid and will not enter the competition. You will receive an acknowledgement within one business day of your submission.
A Brief History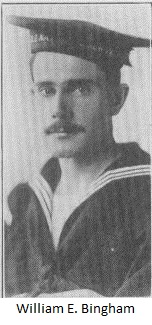 William E. Bingham was born in England in 1884. He was compelled to terminate his formal education at the age of 14, and five years later he emigrated to Canada, where he assiduously prepared himself for enrollment in college. He studied philosophy at Ohio State University from 1914 to 1916 and upon graduation proceeded to Cornell University to pursue a graduate degree. However, in April 1917, with the threat of world war looming on the horizon, William Bingham enlisted in the United States Navy and a year later graduated from Annapolis as an ensign. In November of 1918 he married. Within a month after returning to duty he drowned when a boatload of sailors on patrol near Gibraltar capsized in heavy seas. His remains are located in the Arlington National Cemetery.
The post-war philosophy students here at Ohio State reacted to the untimely death of William Bingham first by producing a memorial issue of their yearbook, The Thinker, and then by deciding to create a memorial award to commemorate his bravery and memory. By 1921 a medal was commissioned by a famous French medalist and for a number of years this was offered as the award. In 1936 there was no medal available for the recipient, and during the Second World War the dies were lost. In 1944 an again in 1958, unsuccessful efforts were made to replace the cast. It appears that during some of this time the department awarded a picture of the medal to the winners of the prize. In addition, books were frequently awarded as well, and in 1950 an award of $25 was offered for the purchase of books. In the 1960's, a new medal was commissioned by the department, but it was not considered as attractive as the original. Finally, in 1981, the Department secured one of the original medals and had a new mold for this medal made. Current winners receive a copy of the original medal (shown below) and a cash prize of $500.00. The undergraduate scholar is then invited to present the winning paper to the faculty and fellow students at an award ceremony.
See the nomination form for further requirements and the submission deadline. Contact the Department for more information concerning the contest.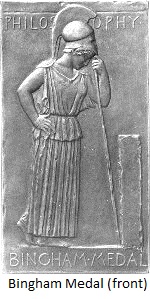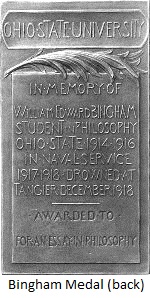 Note: While there have been some years in which a Bingham Medal was not awarded, we know that the following list has significant omissions. We regret these omissions and ask your assistance in correcting them. If you, or someone you know, received a Bingham Medal that is not indicated below, or if you can help us with the titles of winning papers where they are missing, please contact Michelle Brown.
Year
Bingham Winner
Paper title
2020
Angela Barnes 

"The Moral Risk of Passing on Disabilities"

2019 
Miranda McKinney

Joseph Glandorf

"Cursed to be Time Travelers: Time and Personal Identity in Book XI of the Confessions of St. Augustine"

"Descartes and Gassendi on Meditation Two"

2018
Garrett Patterson
"Avoiding a Collective Action Objection to Norm-Expressivism"
2017
Zhiyuan Li
Not "Never Better to Have Been": The Position of Moderate Anti-Natalism
2016
Katelyn Aberl
"Embracing Counterintuitiveness in Haslanger's View for Feminist Action"
2016
Troy Seagraves
"Boghossian and Rule-Circularity"
2015
Brad Griggs
"Hume on Practical Reason: How Skeptical Is He?"
2014
Brandon Sadowsky
"Irrational Blame: A Problem for Scanlon"
2013
Not Awarded
Not Awarded
2012
Kirun K. Sankaran
"Inferentialism and Indeterminacy: Kripke, Brandom and Wilson"
2011
Dan Giglio
"The Price of Fictional Realism"
2011
Gabbrielle M. Johnson
"Reference Magnetism and Macro-Naturalism"
2010
James Kinkaid
"Nietzche, The Scientific Spiritualist"
2010
Benjamin W. Priest
"Towards Unifying Logical Harmony"
2009
Timothy J. Leffel
"Should an Intuitionist Accept Church's Thesis?"
2008
John Wasserman
"On Death"
2007
Not Awarded
Not Awarded
2006
Michael Ondrick
"The Moral Status of Lies with Regard to Consequentialism and Deontology -- or -- Chuck Meets an Untimely Demise Once Again"
2005
Neil Lall
"Montague's Justice-Based Self-Defense Against Innocent Attackers"
2004
Whitney Gegg-Harrison
"An Examination of Kripke's "A Puzzle About Belief"
2003
Andy Chupick
"Justification and Religious Belief: God and the Given"
2002
Jason Allan Miller
"The Metaphysical Status of Modal Property Attributions"
2001
Benjamin Beebe
"Between Gauthier and the Sensible Knave: A Possible Reconciliation"
2000
John Glass
"Kant and the Transcendental Unity of Apperception"
1999
Mary Madia
"Objections to the Nature of Railton's Evaluative Facts"
1998
Elizabeth Tropman
"Externalism, Vernacular Explanation and Explanatory Relevance"
1997
Stephanie Partridge
"God Endures"
1995
Steven Blatti
"Locke on Extension in Atoms"
1994
Natalie Slavens
"Maimonides on Creation"
1993
James Okapal
"Morals By Accident"
1991
John Sarefield
"Berkeley and the Problem of Other Minds"
1990
Maria Dawn Senediar
"Lawyers for Indigents"
1989
Todd Lekan
"Dostoevsky and Sartre on Freedom"
1987
Scott Davison
"Could God Foreknow Human Free Actions?"
1986
Barry Wacksman
"Some Old Problems for the New Materialism"
1985
Jonathan Kandell
 
1984
Mark Svede
 
1982
Mark Lance
"Reference Without Causation"
1981
Kenneth Rose
"Theoria: Participatory Metaphysics"
1980
Mark Lance
"Observation Sentences and Aesthetic Perception"
1979
Nancy Peters
Christopher Wilson
"On Austin and the Star-speck"
"Some Relevant Reflections on Goldman's Analysis of Knowledge"
1968
Nancy Weber
 
1967
Jim Blue
 
1966
Alexander Mosley
 
1965
Jeffrey Parker
 
1964
Lyle Angene
 
1963
James Child
 
1946
George Little Williams
 
1939
Eugene P. Drucker
 
1935
Raymond Mikesell
 
1934
Nathan Grundstein
 
1932
Francis McPeak
 
1931
Mary Sabine
 
1930
Robert Gunning
 
1929
J. B. Rieker, Jr.
 
1928
Thomal A Faulhaber
"Justice"
1924
Kenneth Smoke
 
1923
Florence Everhard
"Evolutionism and Ethics"
1922
Eugene Derby
 
---
[pdf] — Some links on this page are to PDF files requiring the use of Adobe Reader. If you need these files in a more accessible format, please contact brown.930@osu.edu.